Spot Subtitling System
Subtitling made easy
We didn't think we could do much to improve on Spot 5. We were wrong. Version 6 outdoes all previous incarnations of our popular subtitling application.

Easy to use yet advanced integrated subtitling system

Windows 10 ready

Multi-format file import and export

Batch file conversion

Quick batch export

Video converter

Create transparent QuickTime videos with embedded subtitles

Subtitle encoder

Shot cut detection

Audio waveform

Media inspector

Clean subtitle files with a single click

QC subtitle files with a single click

Create DVD and Blu-ray bitmap subtitle streams

Read embedded video timecode

Support for EBU Tech 3350, W3C Timed Text (DFXP) and 45 other subtitle file formats

Click here to find out more about Spot 6.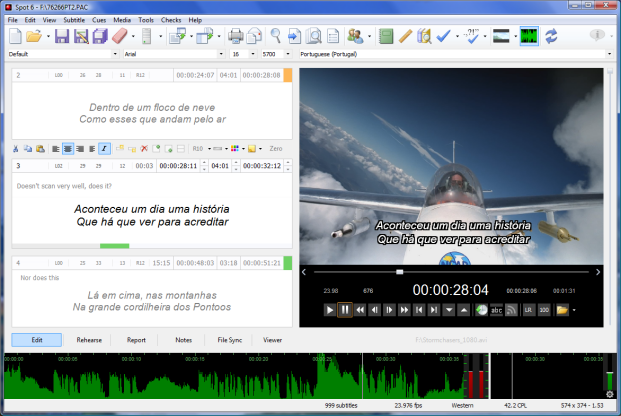 Click here to download the Spot 6 User Guide
Click the button below to purchase or upgrade to Spot 6 now. Discover why you should.

Spot

6: Three years in the making, but worth the wait
It's been a long time coming, but it's finally here.
Back in the autumn of 2012, Spot was approached by one of the world's most renowned localisation companies to add several custom features to Spot 5. By Christmas 2012, we were ready to release this new version as Spot 5.2., but we weren't satisfied. For more than 30 months, we looked at ways in which we could improve Spot, not only for individual freelancers but also for global subtitling houses employing dozens of subtitlers - ways to create, edit and time subtitle files more quickly, to reformat and QC files faster and with greater accuracy than ever before.
Nearly three years later, we believe we have created the best ever version of our Spot Subtitling System. Try it for yourself and we'll sure you'll agree.
Spot User Forum
Our Spot support forum is now in its 15th year of existence. Whether you're an absolute beginner or an experienced subtitler, get free help on any Spot-related topic from our highly knowledgeable group of Spot experts. If there's something about Spot they don't know, then it's probably not worth knowing.
To subscribe, send a message to spot-subscribe@yahoogroups.com or click here to visit the forum.
Who we are and what we do
Spot Software BV, based in Amsterdam, Holland, has been developing subtitling software since 1997. Because we're subtitlers ourselves, we know which tools you need to get the job done as quickly and as accurately as possible. Our popular subtitle editor Spot, one of the first affordable subtitling systems on the market, builds on this experience. Thanks to its wide range of advanced features, user-friendly interface and accessible price tag, Spot has become the tool of choice for professional subtitlers and post-production houses throughout Europe.
Follow Spot on...